It was a treasure trove of East meets West, where modern Western townhouses combined with the rich legacy of Chinese folk housing. "I was constantly exploring those alleys, climbing up and down them," he remembers.
"I believe it was the use of this space, high and low storeys, and the blend of old style and new, which planted the seed in my head to pursue a career in architecture."
Becoming an architect was not the only dream he harboured growing up. Zhongxiao's wild imagination also saw him as a knight in shining armour, a kind of modernday Robin Hood helping the poor to share in the wealth of the rich.
Zhongxiao never acted out his fantasy, however, nor does he rob from the wealthy to help the poor in his role as head of Nikken Sekkei in Shanghai. But he certainly plays a hand in improving lives, using his unique design approach to create a lifestyle where the environment merges nature with urban life, and architecture forges a bridge between the past and the future.
His projects have won multiple awards, most notably the Bank of China Shanghai Building (2000), The Shanghai Citigroup Tower (2005) and Shanghai Greenland Center (2017), a remarkable achievement considering he was the first new graduate of a foreign nationality to join Nikken Sekkei, the oldest and largest design firm in Japan.
Headquartered in Tokyo, the company offers 120 years of experience in the integration of architectural, urban design and engineering expertise. Since 1900, it has completed more than 25,000 projects in more than 250 cities across 50 countries.
Believing Japan offered the best fit for his creative vision, Zhongxiao studied architecture at the Tokyo Institute of Technology, joining Nikken Sekkei straight after graduating in 1994, with a plan to take his new-found expertise to China. "Studying architecture in Japan was a shortcut for me to improve China's urban development," he explains.
"Combining architecture with nature is an important concept in Japan and Nikken Sekkei is the earliest advocate of environmentally friendly architecture, using greenery and natural energy through technological innovation, reducing waste, saving energy and minimising emissions. They are all concepts inherent in our designs.
"In Tokyo and Osaka particularly, Japan offers a unique combination of architectural culture with the development of modern urbanisation, and I saw that as something China could replicate."
However, Zhongxiao's biggest and most immediate challenge was convincing his Japanese employers to at least consider expanding their rather limited overseas portfolio. Part of that meant learning to blend in with the cultural fit, an effort that meant suppressing any of his own ambitious plans.
"I paid more attention to local projects and fitting in, rather than letting my ideas for overseas projects emerge," he says. "But after a period of time and realising how important it was to diversify the company, I focused on reversing everyone's reluctance to develop work overseas.
"We started in China designing individual high-rise office buildings and later, as market demand changed, we went from single towers to urban complexes. The success of that first mixed-use project in China was a determining factor in our global expansion outside Japan."
Studying architecture in Japan was a shortcut for me to improve China's urban development.
Zhongxiao happily reports that China is now an integral part of Nikken Sekkei's global expansion, with the company locally employing a substantial number of project management, design and marketing staff in the region. He admits that this strategy to have teams on the ground is an integral factor in keeping ahead of the competition, along with lots of clear communication.
"Japanese design firms have a particular form of communication tuned to local circumstances, not always suited to other markets. They are, however, noted for their quality and Nikken Sekkei is no exception," he says.
"We will never compromise on quality just for the sake of speed. We know that giving up on quality not only smashes our brand, it is also irresponsible.
"Good communication between Japan and overseas offices, and between the various disciplines within our team, provides us with strategic and tactical advantages to support our brand and maintain quality. It's essential for uniting everyone to focus on the same goal, particularly regarding overseas expansion in an industry where urban development and construction are constantly evolving."
Keeping his altruistic nature always in play, Zhongxiao's focus has shifted towards Nikken Sekkei's mastery of transit-oriented developments (TOD). Japan is recognised as a world leader in TOD hubs where residential, business and leisure space is maximised within walking distance of public transport.
Facilities such as shops, offices, apartments and parks are integrated into designs to improve quality of life through engaging public spaces and amenities that provide an alternative to cramped and isolated residential units.
Zhongxiao's Shanghai Greenland Center, built for one of China's leading real estate companies, the Greenland Group, took seven years to design from his first drawing to completion in 2017. Described as an urban farm where 'city meets natural life', the centre is Shanghai's largest urban park, with sprawling greenery, pathways, apartments, office buildings and shops providing the roof to a two-line subway station.
The split-level roof connects at varying heights, creating slopes and terraces for people to wander or sit, with entryways to shops fitting seamlessly into the design. "For me, the centre is a reflection on Chinese urban life, blending nature into the lives of the Shanghainese living and working in the city," Zhongxiao says.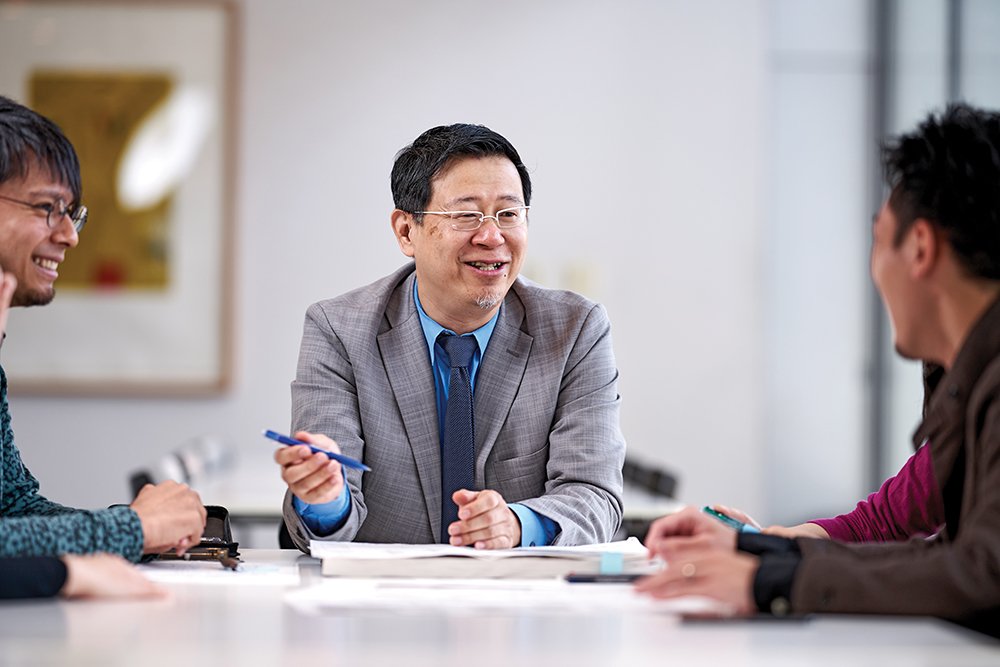 "In the past, public transport in China was seen as just a municipal service, but these days, we are enhancing the value of the city by providing more resources and amenities for citizens. "TOD is a tool that provides cities with a lifestyle, a means of improving the environment and operating cities more efficiently, saving operating costs and commuting times.
This richness of space, implemented so that everyone can enjoy life in the city, is an important concept Nikken Sekkei is promoting not only throughout Asia, but also other regions such as the Middle East and Russia."
Just as he was as a child, Zhongxiao admits he's still a bit of a daydreamer, constantly thinking about the future, monitoring global trends and reflecting on how he can improve not only the aesthetic appeal of a city but also the quality of life for its inhabitants.
However, he's also a practical man and knows that the user experience is of the utmost importance, and this is heavily influenced by the intentions of the developers he works with.
Shanghai HITIME Real Estate, a real estate developer for whom Nikken Sekkei has provided services for many years, places great emphasis on how architectural design enhances the experience of users.
In recent years, in the company's diversified real estate development process, it has actively adopted the integrated application of a new generation of Internet of Things, cloud computing and other technologies to create a beautiful and high-quality community that is low-carbon, intelligent, green and people-oriented for users.
"Shanghai HITIME Real Estate pays attention to the users' feelings," Zhongxiao explains. "It respects the city's historical context and is good at building mixeduse developments, continuously injecting new vitality into the city."
Zhongxiao is optimistic about urban designs of the future, particularly in China, which he describes as being in a stage of rapid development. He says the country's architectural innovation is right up there with the success of its IT industry, with the market providing plenty of scope for architects to explore and overcome challenges.
"Here in China we have to have the courage to experiment and try. We must always think outside the box, because when you focus only on your strengths you stop learning and, in this industry, if you don't continue to learn, you won't survive," Zhongxiao stresses. "It's the same for every architect. His mind must keep turning; he must adapt, explore and develop."
Proudly supported by: