They also ensure the safety of vehicles and the efficiency of factories. The company's Managing Director, Peter Pooh, is an engineering professional who graduated from Queen's University Belfast in the UK and gained his PhD in engineering at the same university.
He explains that while cable manufacturing is Tri Wire Technology Co's core business, it has shifted its focus in recent years in order to adapt to changing market conditions.
"We used to do a lot of consumer electronics products like USBs, HDMI cables and so on. In fact, the company was the leading manufacturer and developer of the HDMI cable," he says.
"But we decided to change our direction because, although business was good and the volume was there, the margins in consumer electronics were being eroded over time. So I took the initiative about six years ago to move the company into a different direction and we started to focus on medical, automotive and industrial products. I believe we did the right thing."
To adapt to the demands of its new clientele, Peter pushed the company through significant internal changes with new technologies, upgraded equipment and staff training to capitalise on this transformation.
"We normally do a five-year plan. In our five-year plan from 2019, our focus is on the digitisation of our processes; we installed SAP and, this year, we are completing our MES to digitise our manufacturing processes. We have gotten rid of paper recording – now it is all done by tablet, and things can be processed immediately and results can be seen straightaway."
Tri Wire is like a boutique manufacturer and design house but, on the other hand, it's very flexible.
Peter describes Tri Wire Technology as a company that is as flexible as its products, so it is capable of meeting otherwise impossible demands through swift responses to customer requests. "Tri Wire is like a boutique manufacturer and design house but, on the other hand, it's very flexible. We can go into a low-volume, high-variance mix of production; similarly, we can also do a high-volume, low-mix production. We can scale up and scale down very easily," he says.
"I still think it's a pretty young company, and being young and small, we are more nimble than most big companies. We have plans to set up auxiliary factories in India and South-East Asia once COVID-19 has died down. COVID-19 has somewhat disrupted our expansion plan outwards, but it has not dampened our spirit, so we still have the intention to do so."
This agility and adaptability are two rewards from the efforts of Tri Wire's employees, who have accepted the company's transition to a digital future. About 90% of the staff, many of whom had been with Tri Wire for more than 10 years, were retrained to be more proficient in handling new products and new challenges.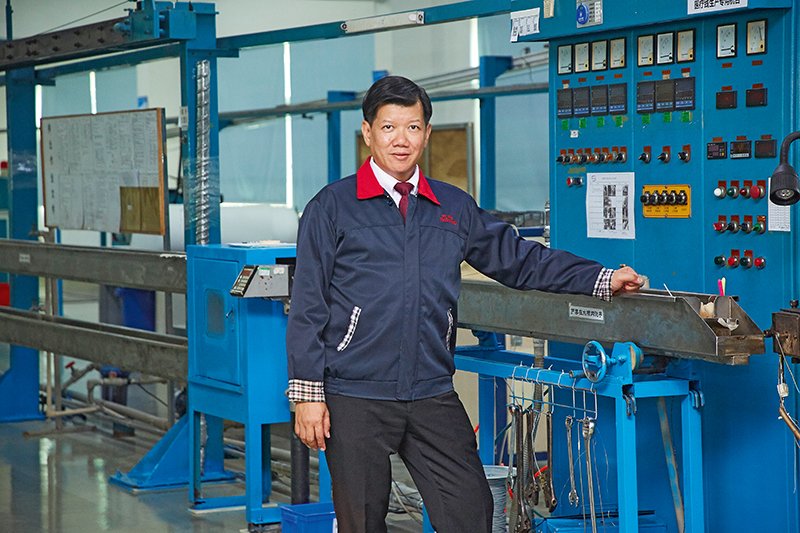 "And then, of course, we have developed our customer base which, especially in the medical and automotive fields, requires time to build," Peter says.
"To help with that, I provided a value-added service if they had problems with their manufacturing, assembly or product design. That helped us to gain trust with customers because they found out that we actually know about much more than cables – we are able to help them solve issues on their equipment or their product design."
The bond between Peter and his staff is more than simple professional courtesy. He prefers to call it a tight-knit family. "A so-called family means I treat them like brothers and sisters, so even though they are employees, we are like a big family. We work in the same environment, so if they have an issue, they just raise it and we'll resolve it," he says.
That is amplified by opportunities to grow with the company, learn advanced manufacturing capabilities and the freedom to move around internally. "After a few years in manufacturing, if they wish to move into supply chain or sales, they can do so. It's another example of the company's flexibility," Peter explains.
"Most bosses tend to be a bit closed off because they need to maintain an arm's length distance. I've been on the other side; I used to work as an engineer and wished that I could talk to my managing director or the general manager, but I was only able to talk to my direct supervisor or manager. So, when I decided to acquire this company, I made a point that it would be managed differently. I want people to be able to approach me, to be able to tell me the good things and the bad things – just like in a family."
Away from the office, Peter loves the outdoors and was once a competitive swimmer in butterfly and freestyle. Since retiring from competitive sports, he plays badminton and enjoys jogging and mountain climbing.
"I'm in the process of registering for a 120-kilometre trek through the desert," he reveals. "Once in a while, we need to renew ourselves and our internal spirits, and our strength; the way to do it is through such exercise." It appears his personal journey is no less strenuous than his journey with Tri Wire Technology Co.
Proudly supported by: