Yen believes that other women across the industry need encouragement and support to voice their opinions. "As a woman, don't be afraid to stand up. Don't be afraid to face the music. Be decisive," she advises.
"You are a role model, not only to other women, but also to the next generation, to your kids; you're a role model to everybody. I feel that as a woman I want my kids to look upon me as a successful person who's able to balance work, life and kids. But other than that, I think we need to encourage each other.
"No-one in the world is perfect. There are times that you falter and become discouraged. That's normal, but how are we going to get out of it? How are we going to encourage each other? How can we be there for the women who need us most?"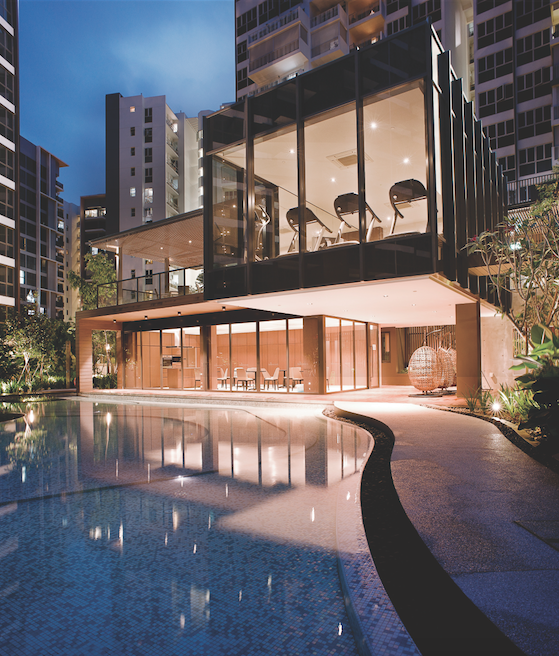 For her part, Yen's answer to this question is simple yet uplifting.
"I encourage them to live their life to the fullest, whether they're a homemaker, an entrepreneur or a career woman.
Do something that they will not regret, you know?"
Looking at Yen's career, there is certainly evidence that an ambitious approach to life is a rewarding one.
She took on the role of Deputy General Manager in 2015 and has employed an innovative approach to leading the Singapore-based property developer.
Yen has acted on this ambition, even though she describes the move as a tough transition, going from a purely sales role to overseeing things like marketing, PR, customer service and process development.
One of her key goals was to help the company's consumers and stakeholders understand and appreciate the value that Qingjian, a wholly owned Chinese company, can bring to Singapore's property development scene.
She faced little resistance to this effort and describes Qingjian as "a forward-looking company that likes to try new things, new styles and new approaches". With its progressive culture, Yen and her team have been able to adopt a holistic approach in their marketing, communications and sales strategies to alter consumers and stakeholders' perception of Qingjian.
How are we going to encourage each other? How can we be there for the women who need us most?
Rather than building traditional homes and telling customers what they can have, Yen believes it's important to determine what customers want. This marketing approach is about the future of Qingjian's developments as well as the future of the company itself, which includes brand positioning and technological evolution, such as smart home tech.
The developer has worked to improve advertising campaigns and launches, with the messaging now focusing on the lifestyle that its developments enable, rather than the facilities themselves. This new lifestyle largely comes courtesy of a growing push for smart tech to be integrated in all parts of society.
Prime Minister Lee Hsien Loong has been pushing for Singapore to become a "smart nation", and Yen is passionate about contributing to this national mission. One example so far is an innovation provided by air-conditioning multinational Daikin for Qingjian's JadeScape property at Bishan-Thomson – an installed smart energy-saving system is being used to operate the water heater.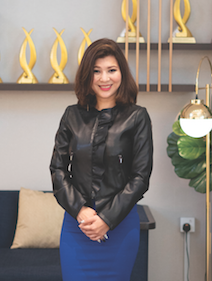 Qingjian only recently ventured into smart home projects (in 2016) but it's definitely something Yen is looking to invest in further. "We just want to show the full potential of a smart home in today's world," Yen explains.
"That's why we created the optimal demo home for them. I want to tell them what a smart home can do and why a smart home is convenient for their life. It's not about changing their life, but to convenience them and improve their lifestyle, rather than just introducing hardware, like home automation. We have to communicate the difference between home automation and a smart home. It should be about the community and the smart home being connected. It's about creating a different feeling, a better environment."
Yen is also driving innovation in the way Qingjian supports agents and other partners. "In Singapore, we still depend very much on property agents to sell our product," she says.
"We don't rely on paying higher commission to entice them. But I think that as a developer we still need to give them ideas about how to sell. We need to let them know what we're doing so they can see we're giving them more than this development. We're providing other things that we can value-add to help them to sell."
One example of this is social media; Qingjian creates content for them to publish and advertise new developments to clients. The company has also introduced a smart demo unit within the sales gallery specially built to better communicate its offerings so that agents understand exactly what they're selling to potential homeowners.
It's also shifted from a hard sell to a soft sell strategy, using emotional selling to build relationships with agents. At the heart of this, Qingjian ensures it's doing more than just giving agents something to sell.
We have to work together hand in hand to build homes that people want to live in.
"We care about the agents," says Yen. "That's important because we are looking for a long-term working partnership. The trust between our agents and us has been developed over the years. So the payoff – other than our ability to show them the products to sell – is that we also need to support them. Whatever they're selling, they're going to see what the buyers will see, so they can make sure the homeowners are happy. When we make sure they're happy too, we've shown that we keep our promises. We want to deliver a good product."
Ultimately, it's about how Qingjian can operate as a team with partners and vendors to achieve a common goal. After all, the developer also works alongside some major partners, including Daikin and Mitsubishi.
The former is providing a smart system for Qingjian's JadeScape project, which involves saving energy and converting it to water heating. This relationship involves an open dialogue in which Qingjian shares its ideas so that its partner can develop them; both teams collaborate to create a better system that continues to excel long after the sale.
"We also want our suppliers to have a good reputation after we hand over," Yen explains. "We want them to continue the relationship not just with us, but also with the homeowners. How the potential homeowners look at Daikin – the hardware they're supplying, the service that they're providing. They're not just supplying to the developers, they're also providing to the homeowners, and word spreads.
"So we have to work together hand in hand to build homes that people want to live in, and we don't push away responsibility. We make sure that, if there are any challenges or feedback, we sit down with our partner and we overcome it. We find solutions."
Proudly supported by: